Update 2017: New Years Run Edition….
Greetings and Salutations! Happy New Year 2017.
As we start our second decade back on the road with our professional road gear, we just wanted to take this opportunity to wish everyone a Happy New Year and to say Thank You!
To all our friends, family, fans, artists and well wishers, Thank you so very much for making the Hard Truckers a part of your lives and a household name. We have worked extremely hard over the last ten years to make every Hard Truckers product the best in the business, and together we have made beautiful music together. We look forward to working even harder in the years to come, together as we all continue searching for that sound!
Drop us a line at support@hardtruckers.com to find out how we can get that professional JG1 into your rig. Don't Feel Like a Stranger, drop us a line. We are family.
Have a very Jerry Christmas and a Happy Bob Weir.
Update 04/01/15. No foolin'…
Looking back on 50 years…
Congratulations to the Grateful Dead and their incredible 50 year legacy.
Chicago and the July 4th weekend Dead50 concerts are shaping up to be
the biggest musical event in years. There are so many celebrations going
on in 2015 to mark the historic milestone, be sure to come join the party.
To celebrate this historic Dead50 milestone we are offering for a limited time
a special Dead50 limited edition JG1 cabinet with a cocobolo front trim to
match Jerry's classic cocobolo guitars; Tiger, Rosebud and Lightning Bolt.
Email us for more details.
We still have great deals on our flagship JG-1 2x12 cabinets. Be sure to
drop us a line to say hello, and find out if there are any specials currently
being offered. We now offer the new Tone Tubby "Purple Haze" speaker.
With a very similar sound characteristics to the old JBL K-120s, the
Purple Haze speaker is an incredible new Tone Tubby speaker option
inside your Hard Truckers speaker cabinet.
Already have speakers that you love? We still offer all our cabinets unloaded.
Our unloaded cabinets come with all hardware, wiring and the protective cover. It only takes about 30 seconds to load your speakers inside one of our professional cabinets, and then in true Hard Truckers style, simply plug and play!
Just looking for speakers? We are an official Tone Tubby distributor. Get your hemp cones from us.
Be sure to drop us an email with any questions you might have or to place an order. We love to hear from you!
What a long, strange trip it's been.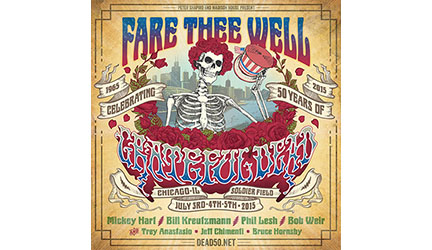 Head of the Dead: Captain Trips Amplifier
Louis Electric Amplifiers and the Hard Truckers
are proud to present, in collaboration,
a line of Amplifiers; "The Head of the Dead" and,
our first model "Captain Trips".
Thirty-Seven years ago a unique sound in San Francisco was developing. Clean highs, barking mids and a distinct bottom end defined a band's and a movement's sound. The Hard Truckers led by Steve Parish and Louis Electric Amplification are preparing to walk back in time, when Peace and Love ruled and the Grateful Dead changed sound for all generations to come. Louis Electric Amplifiers are industry leaders in building hand-made American Built Amps; Hard Truckers and Louis Electric Amps are Proud to present the first in the "The Head of Dead Amp Series", "Captain Trips".
Four (4) KT-88 power tubes creates 150 watts of power based upon Jerry Garcia's beloved amp with a bit of a twist. Play it straight or with the flip a switch, run your rig with a McIntosh 2300 (or similar) power amp just like Jerry did. Louis Electric catches the breathtaking tone of an American Legend. From the first note you will swear the Fat Man is in the room.

This unique Amplifier is housed in a road-ready Hard Truckers Cabinet, complete with removable panels and heavy-duty magnets that can hold in place your choice of custom tie-dyes (each sold separately).
The Whole Thing:
The Sound, The Look, The Feel, The Trip!
$3,995.00
If you would like more information on this amplifier please contact Glenn Goldstein of the Hard Truckers at (678) 457-7574, 1(800) ROADGEAR or email Glenn at glenn@hardtruckers.com

THE DEAD GEAR EXPO
The first ever Dead Gear Expo is now in the books and by all accounts it was a huge success, a veritable 'Comic-Con' for Deadheads. For one weekend we had the most incredible candy store ever created for heady musicians. Captain Trips the all new "Jerry" amp from the Hard Truckers and Louis Electric made its debut and toys abounded to play with including; guitars from Moriarty, Resurrection and Lieber, and pedals from Pigtronix. People even brought their own axe's to show off and demo products. McIntosh Laboratories had a huge 12'h x 8'w picture of the wall of sound as well as two incredible sound systems. Do-it-yourselfers got to see all of the products Amplified Parts has to offer. The room was beautifully decorated with Courtenay Pollock tie-dye designs and raffle prizes from Telefunken, Dead Images, Wald Electronics and more were given out to attendees. At night the party continued as both Playing Dead and Half Step tore the roof off Mexicali Live. Thanks you for your support, a good time was definitely had by all. Stay tuned for the 2nd Annual Dead Gear Expo; it may be coming to a city near you! Follow the Dead Gear Expo on Facebook at www.facebook.com/deadgearexpo Look for a dedicated website soon.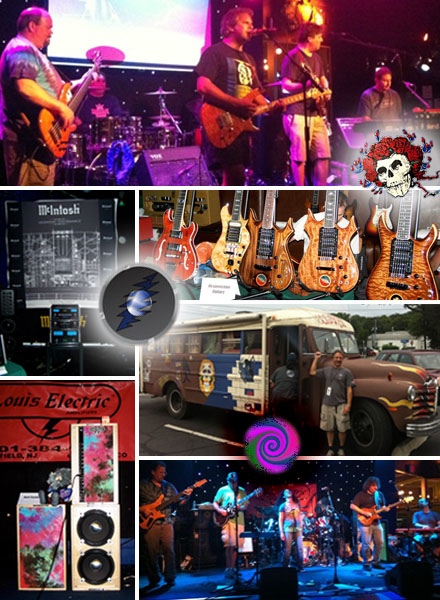 The 1st Annual Grateful Dead Musical Gear Exposition
August 20th and 21st, 2011 Mexicali Live, Teaneck, NJ
Presenting the 1st annual gathering of vendors, sound specialists, musicians and gearheads searching for that sound.
For one exciting weekend this summer deadheads, come descend on Teaneck, NJ's deadhead hotspot and music venue, Mexicali Live, to take part in a communal experience the "Dead Gear Expo". This one of a kind exposition will feature like-minded manufacturers displaying their Grateful Dead created and inspired musical gear. Guitars, Amplifiers, Speaker Cabinets, Tie-dyes and Accessories will all be on display together for the first time. Manufacturers to include the Hard Truckers, Louis Electric Amplifiers, Moriarty Guitars, Resurrection Guitars, Pigtronix, McIntosh Laboratories, Amplified Parts, Courtenay Pollock Tie- Dye Designs and more still to be announced. Finally you have an opportunity to demo and play with some of the best gear you have only been able to hear/read about; and talk with some of the brightest minds about the gear we all know and love. Make new friends with fellow musicians and Grateful Dead gear enthusiasts.
Throughout the two-day event; guest speakers, special guests, and high profile musicians, among others are expected to attend adding to this unique special event. Both evenings will be capped off with separate concerts featuring Grateful Dead inspired music also to be held at Mexicali Live. Appearing live Saturday night from Boston is Playingdead and taking the stage Sunday night is NY's own Half Step. Additional manufacturers and guests will be named in the coming days, so stay tuned as news develops.
Grab your tickets today and meet up with friends you have known for years online in person. Gearheads unite and rejoice as together in the same room a bunch of gearheads just like you. Come join the party.
Space is extremely limited. Only a limited number of early bird advance two day packages with entry to both days expositions and both evenings concerts are available for only $30.00.
Special Hotel Rates are being offered at the Crowne Plaza Hotel Englewood, NJ. The Crowne Plaza Englewood is only a few minute drive from the venue and offers shuttle service to and from the Expo. Call the Crowne Plaza Englewood at (201) 871-2020 and ask for the Dead Expo Rate.
Be sure to follow us on twitter @deadgearexpo and friend request us on Facebook /deadgearexpo. More exciting information is still yet to come so, stay in touch.
Pit Tour Summer '11
This summer is GEAR'ing up to be hottest on record. We are proud to be part of the 1st annual Dead Gear Expo. This truly communal event will take as all furthur. Please come be a part, we look forward to meeting you in NJ.
Our flagship JG1 has been on many stages and now we are on our First #1 Album. Congratulations to Chris Funk and the Decemberists. Chris used his JG1 while recording their latest album "The King is Dead" and it recently went all the way to number one. Congrats Chris.
Now available; The MacJack. Have a McIntosh 2300 or similar power amp in your rig? Tired of wrapping speaker wire around the back of the amps screw terminals? We as usual the Hard Truckers have the answer. Our new MacJack creates a hardwired connection. Spade connectors on our MacJack slip over your amps screw terminals and the base of the MacJack has a ¼" jack on the other; a hardwired reliable alternative. Email us sales@hardtruckers.com for more details.
Coming this summer..!! The Ultimate GARCIA Amp. The Hard Truckers and Louis Electric Amplifiers are joining creative forces to bring forth a ghost from the past. Stay Tuned for more info. This is going to be huge.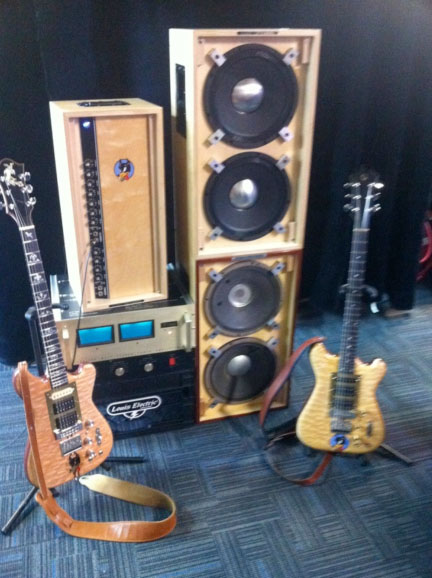 See you out on the road this summer.
Spring Tour '10
The Hard Truckers are proud to once again work with an old friend. Courtenay Pollock one of the original Grateful Dead tie-dye artists has created a limited addition line of speaker grille fabrics to specially adorn our JG-1 and "Fatty" 2x12 speaker cabinets. Courtenay has taken his life long magical tie-dye skills and conjured up the spirit of the '60s with his one-of-a-kind masterpieces. Courtenay first began his work with the Grateful Dead making tie-dyes for their speaker cabinets and stage backdrops in 1970. Known for their amazing detail, vibrant colors and trippy multi-dimensions, some of Courtenay's original Grateful Dead pieces have recently sold for thousands of dollars at auction. Courtenay brings his Fabric Fractal Art, multi-dimensional tie-dye designs and geometriart folded tied and dyed original art to the Hard Truckers once again.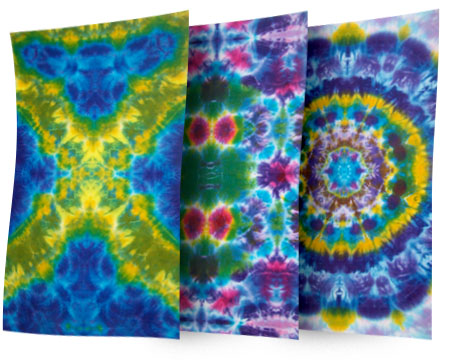 You can read Courtenay's incredible complete bio here.
To celebrate this very limited line of speaker grilles we are offering one Courtenay Pollock Limited Addition Speaker Grille FREE with the purchase of a regular priced "Fatty" or JG-1 loaded speaker cabinet. Supplies are extremely limited.
Courtenay Pollock Limited Addition Speaker Grilles - $174.99
You can view our complete collection of Limited Addition Courtenay Pollock Speaker Grilles here.
Please email us at sales@hardtruckers.com or call us at
(877) ROADGEAR for all the info. Hurry supplies won't last.

In Other News….
We are also please to be on stage with new Dark Star Orchestra guitarist Jeff Mattson. Jeff is enjoying the ride with us loading his JG-1 with vintage JBL K120s. Welcome home Jeff.
Our hemp supplies are once again back to normal and our famous "Fatty" cabinets are available.
Call or email us to check on our current stock of Brian Brown's Professional Guitar and Instrument Cables. They tend to go out the door the day we get them in from Brian so get in touch today so we can hook you up.
Steve Parish continues to be out on the road with Moonalice. Check out this killer band and its incredible lineup and make sure you say hello to Big Steve.
One last quick note: Our shop tends to be a bit noisy and sometimes we don't hear the phone when it rings. When calling please leave us a message so we can get back to you.
Now is the perfect time to own a world class Hard Truckers Speaker Cabinet. Be sure to email us for the current availability on our Psychedelic Liberators. While you are at it drop us a line and find out about our daily sales and special offers sales@hardtruckers.com or call us at (877) ROADGEAR.
Built to Play Hard.
August 1st, 2009

Happy Day Everyone….

Hope this finds you well and enjoying a fantastic summer. Let us update you on some stuff in the Hard Truckers world. We hope to hear from you soon. Please give us a call at 1(877)ROADGEAR or drop us a line at sales@hardtruckers.com

Thanks and Stay In Touch! – The Hard Truckers Crew

Psychedelic Liberator - The Psychedelic Liberator is taking the music scene by storm. This hot new 2x12" Guitar Cabinet is flying off the shelf. The first round of cabinets sold out fast and round two is moving at an incredible clip. Please drop us a line to find a store near you that carries the Psychedelic Liberator. Here is a sample of what Vintage Guitar Magazine had to say about the Liberator -

" Subtle changes in tone from the guitar or amp were apparent, and though the cab's overall sound was crisp and clear (especially well-suited to clean tones), its high-end response was especially noteworthy. And its penchant for compatibility with clean tones is beneficial when applying effects, as little is added in the way of sonic coloration from the speakers. But this cab is meant for two things – to be played loud, and to rock!"
- Vintage Guitar Magazine May 2009

"Fatty" Hemp 2x12" Cabinet – We expect our hemp board to be back in stock soon. We are now able to take orders on the only hemp cabinet available today.

JG-1 – Our flagship cabinet is still available unloaded or with your choice of; Tone Tubby, EV, Jensen or Eminence Speakers.

New Artists – The Hard Truckers are truly honored to welcome some friends into the family. For the complete list of all Hard Truckers Artists Enjoying the Ride check out our Artists page.

Al Schnier of Moe has added a maple-trimmed Fatty 2x12 to his rig. Al uses his Fatty as the cornerstone to what can only be described as the first "Green" rig. Along side with his Oldfield Amp housed in a bamboo head cabinet, Al created the first rig made of renewable resources.

Brendan Bayliss and Jake Cinninger of Umphreys McGee both now use stock Psychedelic Liberators with Custom Grille Covers. These guys tear it up with the Liberators in one of the hottest jam bands out there.

Out of Stock? - Is the item that you are looking for out of stock online? Don't fret, just give us a call or drop us an email. We often have stuff in the shop but not yet in our online inventory, is currently in production, in the pipeline, or in the process of being assembled.

Cables – Our main man Brian Brown has been busy on the road with Phish and our stock of cables had dwindled. Not to fear, Brian has had a few minutes to breathe and in that time has once again stocked us up with his incredible professional guitar and instrument cables. They are going fast so reserve yours today before Phish hits the road again.

Specials! – Drop us a line to find out what specials that might be running this week. Various specials that we have run in the past have included but are not limited to;
Free Shipping, Scratch and Dent, 20% or more Off List Price, and Buy One, Get One Free. Find out what specials the Hard Truckers have going today.

One Final Quick Important Note! – We love to hear from you, please keep the phone calls coming, but if there happens to be no answer when you call please leave us a message and we will get right back to you asap. Sometimes with all the noise in the shop we don't hear the phone but we don't want to miss you. So please leave us a message.

1(877)ROADGEAR – sales@hardtruckers.com
NOW AVAILABLE:


Contact us for the hottest music stores in your area that carry the Hard Truckers Psychedelic Liberator
Now available, from the Hard Truckers and their Organization Of Sound Specialists; the Ultimate Everyman's Guitar Speaker Cabinet
Introducing, Hard Truckers 2x12" Psychedelic Liberator
The professionals' at Hard Truckers are back at it, once again designing and producing their top-of-the-line speaker cabinets. This time the crew has put together what can only be described as the Ultimate Road Ready Guitar Speaker Cabinet. The virtually indestructible all-new Psychedelic Liberator is made for the road with its amazing rock-n-roll tone and American made construction.
The all-new ultra light cabinet featuring a solid birch baffle is covered in Genuine Hard Truckers Roadliner giving it uncompromising durability. Two 120-watt, full range Eminence Red White and Blues speakers work in concert inside the cabinet creating the ultimate guitar or keyboard tone. One of four colorful tie-dye Pictoscrim Grille Cloths protect the speakers and will add color to your stage. Two ¼" Switchcraft jacks and premium steel handles round out the road ready cabinet.

Available only thru traditional retail outlets, this affordable cabinet with a list price of $799.99 will be priced to sell in stores at around $599.99.
Perfect with any amp and style of music, the Psychedelic Liberator will not only produce strikingly loud and crisp crystal clean tones that dirty up well, but also will bring out the subtle intricacies of a rig. Free your mind and your tone will follow.
Cabinet Details
Cabinet Construction –
- Solid Birch Baffle
- Cabinet Covered with Genuine Hard Truckers Roadliner
Speakers –
- Eminence Red White & Blues 12" Ceramic speakers
- 120 watts/each
- 8 ohm speakers wired in parallel creating a 4 ohm total load
- Frequency Range 70Hz – 4.5kHz
Grille Cover –
- Exclusive Pictoscrim Tie Dye Grille cloth
- Interchangeable
- Additional Grille Frames sold separately
Cabinet Handles and Jack–
- PennElcom Steel Cabinet Handles
- PennElcom Steel Jack Plate
- (2) Switchcraft ¼" Jacks
- 14 Gauge Speaker Wire
Cabinet Dimensions and Weight –
- 28"h x 15.5"w x 12.75"d
- 39 lbs Loaded
Stay in touch with us here at hardtruckers.com to get the latest info and exact release date of this incredible affordable workingman's cabinet with that same classic Hard Truckers tone.
The Hard Truckers - Built to Play Hard
For Immediate Release
08/24/08 San Francisco, CA
The Hard Truckers are honored to have long time soundman, technical wizzard and brother Dan Healy back where he belongs as part of the Hard Truckers. Dan once again will be bringing his expert knowledge to the crew that he helped start in the early 70's. A major designer of the Grateful Dead's original Wall of Sound, creator of countless pedals, gadgets, and electronic genius, Dan is still the authoritative voice in the music gear scene.
Stay tuned to www.hardtruckers.com to see the incredible new products that Dan Healy is once again ready to unleash on the scene. Feel free to email us with any questions or to say Hi and welcome Dan back into the fold.
The Hard Truckers; Built to Play Hard by the crew with over 120 years experience on the road.
Peace
- the Hard Truckers Crew
Update 07/01: The Summer's Here and the Time is Right….
Just in time for summer, Brand New Hard Truckers short sleeve tee shirts in RED and BLUE. The same classic Hard Truckers design in two new colors.
Our brother Brian Brown has been hard at work with Phil Lesh but has found some time to make a new batch of his world renowned Hard Truckers Guitar and Instrument Cables. We also received from Brian some more of his, patent pending, "Isolators" which are a must have for the gigging musicians. Supplies are limited.
We still have a great variety of Fatty Hemp Cabinets with some really trippy hardwood edges in stock. Find out why Vintage Guitar Magazine called the Hard Truckers Fatty 2x12" Hemp Cabinet "…one of the coolest, most solid sounding guitar cabs on the market." VGM 09/07.
Top Secret – Coming this Holiday Season a brand new Hard Truckers Speaker Cabinet. Details to follow shortly. Stay tuned.
Suddenly Everything is Brighter and Better Sounding!
Don't be a stranger, drop us a line or give us a call to say hi, ask our professionals a question or find out about our unadvertised specials. 1(877)ROADGEAR. info@hardtruckers.com
Finally, a special thanks to our friend Jimmy Herring for the shout out in June's Guitar Player Magazine available on newsstands now.
Thanks and Stay in Touch.
the Hard Truckers Crew
Update: Happy 4/20 Happy Earth Day!
Back in Stock!
Our Fatty Hemp/Bamboo Cabinets are now back in stock after a huge backorder. We have some great trims available and we can now take custom trim orders as well. To celebrate all Fatty Trims are now only $1499.99 for a loaded cabinet or $1099.99 for an empty cabinet; that's a $150 dollar savings on a killer cocobolo cabinet.
We also have a brand new "special" Fatty cabinet dedicated to our friends over at Jensen Speakers; a Macassar Ebony trimmed Fatty loaded with a pair of 100 watt Jensen Blackbird Speakers. This stunning black trimmed Fatty sounds killer and looks incredible.
Got a Question, Comment or Suggestion? Drop us a line or give us a call to find out the latest on our JG-1's, HT215 Bass Cabinets, Brian Brown's Guitar and Instrument Cables, SP-1 Junction Boxes, Road Cases, Our girls' latest Grille Covers, Current Specials, String Change Kits, and more… 1877ROADGEAR
Here's to a great '08…
We hope this finds everyone with their heads in the cosmos, having had a healthy holiday season and a happy new year. Things here are hopping and the Hard Truckers have big plans for 2008. As the year unfolds be on the lookout for; new products, new Artists "Enjoying the Ride", internet specials, re-issuing of old gear and most importantly more of the best sounding and finest crafted speaker cabinets available today.
Our Hard Truckers String Changing Kits and SP-1 'Y' Junction Boxes sold out this holiday season and we now have both back in stock, as well as most of our Professional Guitar and Instrument Cables hand-made by Brian Brown. Big Steve was generous enough to hit his stash of ole Jer's guitar strings again for the String Changing Kits but supplies are limited so don't delay.
We have most of our Baltic Birch Cabinets in stock and hope to be caught up on our Fatty hemp cabinets next month so stay tuned. You can still pick your poison as the Hard Truckers offer all their cabinets Loaded with one of our incredible speaker manufacturers or Unloaded allowing you to add your own speakers.
Thanks for making our first year back on the scene an incredible one. From Big Steve, Joe, and all the Hard Truckers Crew, thank you for all the love and light sent our way and know that it's reflected back tenfold. Cheers to the New Year ahead.
-The Hard Truckers Crew
Update 11/08/07
It's beginning to look a lot like…
The holidaze and our post-hiatus one year anniversary is rapidly approaching and the Hard Truckers have been hard at work creating our top-of-the-line Guitar Cabinets and Road Gear. We have pretty much bunch of JG-1 2x12" Guitar Cabinets from the same batch of wood as our new friend Keller Williams' cabinet came from. These cabinets have some really trippy figure, great color and sound absolutely incredible.
Also in stock for the holidays: a new batch of Guitar and Instrument Cables from Brian Brown, SP-1 'Y' Junction Boxes, Tee Shirts and assorted Road Gear.
We have an unloaded JG-4 vertical 4x12" cabinet that needs to find a good home. Buyer backed out, brand new and priced to move. Call or email for details.
Still available: HT215B 2x15" Bass Cabinet, Tone Tubby, EV, Celestion and Jensen Speakers, BW-1BB 1x12" Extension Cabinets, Road Cases, and Awesome one-of-a-kind Grill Covers.
Finally, New from the Hard Truckers, Holidaze Gift Sets.
The all-new Hard Truckers String Changing Kit is perfect for changing your strings on the go. Enclosed in a custom Hard Truckers hand-made hemp/cotton bag is everything you need to change your strings and keep your guitar happy. Inside you will find; a Korg GA-30 tuner, ergonomic Shubb string winder, 9-piece hex key set, 4-piece screwdriver set, wire clippers and a very special gift from Steve Parish. What's the special gift you ask? Inside you will find a set of Garcia's Custom Vinci Guitar Strings (Vinci 677 10's or Vinci 699 11's) taken directly from Big Steve's Personal Stash. Unused, and in their original packaging these strings haven't seen the light of day since they were packed up after summer tour 1995.
Only 20 Kits have been made so supplies are extremely limited. Phone orders only thru the HT Line @ 1(877)ROADGEAR with a Limit of (2) Two Kits per Customer.
Hard Truckers String Changing Kit - $ 59.99
Package Includes:
Korg GA-30 Guitar/Bass Tuner
Shubb Ergonomic Peg Winder
Pittsburgh 9 piece Hex Key Set
Harbor Freight Screwdriver Set
Pittsburgh Wire Clipper
Set of Garcia's Vinci Strings from Big Steve's Personal Stash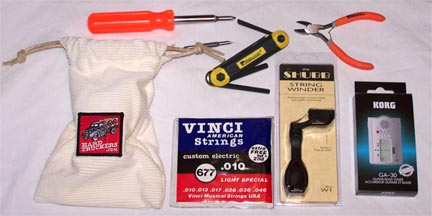 The Hard Truckers Roadie Kit – Created by Big Steve modeled after his touring tool kit. Perfect for newly touring bands and home studios, the complete Hard Truckers Roadie Kit will tackle anything that pops up and offer you a little piece of mind. The Roadie Kit has everything you need on the road to make sure the show goes on and you sound great. Take care of anything that might arise on the road with: the Hard Truckers Isolator by Brian Brown, Solder Station, Cable Tester, Various Tools, Tape and more. Twenty items in all valued at over $500 if purchased separately.

Available thru phone orders only.

The Hard Truckers Roadie Kit - Specially packaged by the Hard Truckers for only $ 399.99

Package Includes:
Weller Solder Station
Pittsburgh Wire Clipper
Pittsburgh Needle Nose Pliers
Pittsburgh 7 pc Hex Key Set
Harbor Freight 7 pc Screwdriver Set
Harbor Freight 6 place Mini Screwdriver Set
Harbor Freight Digital Battery Tester
Mini (AA) Maglite Gift Set Flashlight
1 Roll of Electrical Tape
1 Roll of 2" Gaffer Tape
1 Black Sharpie Pen
1 Roll of Solder
12 pack of Duracell ProCell Professional 9v Batteries
Cable Cop Cable Tester
Hard Truckers "Isolator"
Shubb Peg Winder
Korg GA-30 Guitar Tuner
Mini 14 gram Can of DeOxIt
1 Bottle of Alembic Guitar Polish
Hard Truckers Short Sleeve Tee Shirt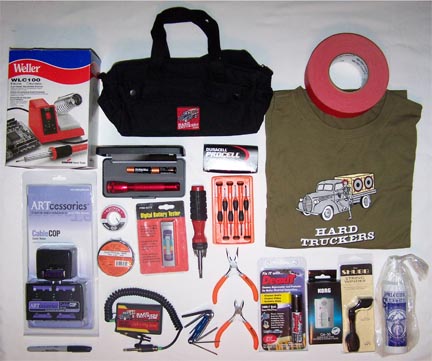 Drop us a line and say hello.
Thanks and Stay in Touch!
- The hard truckers crew
1(877)ROADGEAR
http://www.hardtruckers.com
http://www.flickr.com/photos/hardtruckers/
Gift Shop Annex
hard truckers myspace
Hard Truckers Yahoo Group
08/01/07 Happy Birthday!
We hope this finds everyone well as we head into the dog days of summer; we have a few things to report.
Now Available:
The Hard Truckers HT-215B Bass Cabinet. The Hard Truckers are proud to now offer a pure rock-n-roll Bass Cabinet. Our closed back, 2 x 15" Bass Cabinet is the latest in our line of old school incredible speaker cabinets. Made of the same premium components as our other Hard Truckers Cabinets, our Bass Cabinet will rock your foundation. The HT-215B Bass Cabinet is loaded with (2) ceramic magnet 15", 500 watt EV DMX 3150 professional speakers. These high-end speakers with a flat frequency response of 35hz to 3000hz perform perfectly inside the Hard Truckers cabinet tuned to 35hz. This time around we have added a dual combination Neutrik ¼" and Speakon Jack allowing you to choose your connection to the cabinet from your amp. Also inside the cabinet you will find dual 4" flared ports and the entire inside of the cabinet is lined with the best 1 ¼" acoustic foam available to prevent cavity resonance. No shortcuts here. Measuring a relatively small 37" high x 20" wide x 15" deep, and weighing in at a reasonable 105 lbs our Bass Cabinet is perfect for laying down the groove and dropping bombs. Feel the power of a Hard Truckers Bass Cabinet.
Introductory Price: $1,599.99 plus packing and shipping.
Interested? Got a question?
Give us a call at 1(877)ROADGEAR and we will fill you in.
Bass Cabinet Launch Special: For a limited time only you can purchase our top-of-the-line Road Case for your Bass Cabinet for only $ 400.00 (plus shipping). That's right. Now you can roll your new cab around in style, simply pop the top and plug-and-play. Our guys over at AVS Case Co have designed a great road case for our new baby. Try and find a better custom professional road case at that price.
The Ultimate Hard Truckers Bass Package: Hard Truckers 2x15" Bass Cabinet and Professional Custom Road Case – Only $ 1999.99 plus shipping.
Bass Cabinet Grill Covers: The girls have been hard at work designing new grill cover fabrics large enough for the new Bass Cabinet. Grill covers are available for the Bass Cabinet at the same pricing as the JG-1/Fatty. If you are interested in a grill cover visit our Gift Shop Annex, look for the double wide fabrics, choose your fabric and the girls will frame it up for you.
SP-1: Hard Truckers 'Y' Junction Box. The reaction to our Stereo Junction box has been absolutely incredible. They are still available and, we are making more all the time with them flying out the door.
Hard wire your guitar effects loop to the rest of your gear, loose the flimsy unreliable 'y' cable and go for the professional answer. The Hard Truckers SP-1, designed by Big Steve, and constructed like he used to make them for the Dead. No guitar with an onboard effects loop should be without one. Phone Orders Only. $ 69.99 plus shipping
Guitar and Instrument Cables; Hand-made by Brian Brown. Brian has been hard at work between his touring schedule making cables. Like a little old lady knitting sweaters, Brian has been churning out his incredible cables. We currently have all lengths and connectors in stock, including Brian's TRS stereo cables that are a perfect match for our SP-1 Junction Box. Brian's cables seem to fly out of the shop, so if you are ready to improve your tone and make the leap to "The Professionals" cable don't wait too long as Brian is headed out with Marcus Miller and Tom Petty later this summer as well as his regular obligations with his Phish family crewing gig.
Notes:
Now Enjoying the Ride. The Hard Truckers are proud to welcome in to the family our good friend Steve Kimock. Steve took delivery of his new Maple trimmed "Fatty" loaded with Garcia's old E120 frames just in time for his gig with Ratdog. Catch Steve, Bobby, the rest of the Ratdog gang and now, the Hard Truckers on tour this summer.
Hard Truckers in Print. Check out the September issue of Vintage Guitar Magazine for a great review of the Hard Truckers "Fatty" 2x12" Guitar Cabinet. The cats over at VGM put the "Fatty" through its' paces and we passed with flying colors. As a matter of fact they liked the cabinet so much, they bought it. A great read in a great magazine on newsstands now.
Something out of stock online? Not to worry. Drop us a line at info@hardtruckers.com or give us a call at 1(877)ROADGEAR and tell us what you are looking for. Chances are, what your looking for is currently somewhere in the pipeline and could be ready any day. Don't let the disappointment of something being out of stock get you down as items are coming off the production line daily.
International Orders Now Available. We think we have gotten a good handle on shipping and now feel comfortable shipping internationally.
We are slowly working on our myspace page, come be our friend http://www.myspace.com/hardtruckers
Remember we love to talk gear. Got an answer? Need a question?
Don't be afraid to say hi.
Visiting for the first time? Here are some links to find us.
- The hard truckers crew
1(877)ROADGEAR
www.hardtruckers.com
www.flickr.com/photos/hardtruckers/
Gift Shop Annex
hard truckers myspace
Hard Truckers Yahoo Group
Update 5/8
It was 30 years ago today…
Now Available From the Hard Truckers:
EVM 12L 12" 200 watt Speakers – We are proud to offer another high-end speaker option inside all Hard Truckers Speaker Cabinets. We feel that this cast frame, ceramic magnet speaker with a 4" voice coil is the perfect replacement and sounds extremely similar to the vintage JBL E120's. The EV's have a crystal clear high end, rich midrange and a nice tight, focused, full low end. They are extremely loud and offer a fantastic and "true" reproduction of your rig.
To load your cabinet with this great new speaker or any one of the fantastic speaker options inside a Hard Truckers speaker cabinet give us a call or upon online checkout in the notes section simply specify EV, Jensen, Celestion or Tone Tubby.
Custom Rack/Road Cases – As you can imagine we get a good amount of enquiries about Garcia's equipment and gear. One of the items that people ask about most is Jerry's Baltic Birch Hard Truckers Rack Case that graced Garcia's stage throughout the 70's and 80's. With the help of our good friends at AVS Case Co we are proud to bring this incredible Rack and Road Case Combo back. The 3⁄4" Baltic Birch Rack Unit which sits atop it's Road Case is created with your choice of the number of rack spaces and two shelves to hold effect pedals. The heavy duty ATA approved road case is custom made to hold the Rack Unit.
Pictures of this incredible reproduction will follow, for more information give us a call 1(877)ROADGEAR or drop us a line at info@hardtruckers.com
Stereo 'Y' Junction Box – Have an onboard effects loop on your guitar? Have to use one of those flimsy stereo "Y" cables that always seem to die or just don't sound good? Big Steve didn't want us to take the half ass route and instead commissioned us to build the junction box they used to make for the Dead. This MXR size box is comprised of a Stereo Input Jack that splits off to a send Tip Jack and a return Ring Jack. A hardwired connection will do wonders for your tone and your reliability. Brian Brown has made TRS guitar cables to use with the junction box and they are available as well. Call for details 1(877)ROADGEAR.
Custom Speaker Grills - Our Gorgeous Gal's have been busy making grill frames, dying fabric and now can even attach their art to home stereo speakers. Pictures of new completed grill frames, new fabrics, and completed custom orders can be found at www.flickr.com/photos/hardtruckers or by emailing whitchywhoman@hardtruckers.com or erin@hardtruckers.com The girls have also created a "Gift Shop Annex" with some cool grill covers that you can see here. New Grill Frames seem to take a while for us to get up online. We do have a large amount of completed grills so definitely get in touch with us if your looking for something in particular.
Notes:
Artists – The Hard Truckers are honored to announce that a new friend has joined us and is now along for the ride. Dave Malone of the Radiators is all set to celebrate the bands' 30th anniversary on the road with his brand new JG-1 loaded with Jensen Blackbirds and a Custom Grill. A Self- professed gearhead and tone freak, Dave broke out his new cabinet onstage at Jazzfest. Catch Dave, the Radiators, some New Orleans flavor and one of the best rock-n-roll shows out there, on tour in a city near you.
The Isolator – Reaction to Brian's incredible invention has been overwhelming and we now have more back in stock. Our Isolator backorder has ended, all orders have been shipped and we have a good amount back in stock. Brian is going out on tour at the end of the month so don't miss out. Cable and Isolator production will shut down while Brian is on tour. We have stocked up nicely, so don't delay because the cables and the isolator are going out as fast as they are coming in. Find out why the Isolator is on tour with some of today's top tech's and biggest shows including; Widespread Panic, Dave Mathews, Derek Trucks and Marcus Miller to just name a few.
Empty Cabinets – We still do have empty cabinets available and ready for shipment. Unloaded Cabinets are only available as Phone Orders at this time so we can make sure your cabinet has the proper jack and clamps. Empty JG-1 $ 899.99
Vintage Speakers – From time to time we do get vintage speakers in stock, ie. JBL E120's. We can't predict when they come in or how much they cost. They just seem to show up in the shop so we can't really keep them online. Drop us a line for more details and we can alert you when we get what you are looking for in stock.
Bass Cabinets – They're a coming. We are putting the finishing touches on our latest masterpieces and so far the results are incredible. A 2x15" closed back cabinet that really packs a wallop. Get ready for a real kick in the chest. Stay tuned for this early summer release.
Team Truckers – We are starting a new and exclusive club that is really easy to join. Purchase a Hard Truckers Cabinet? Have a vintage Hard Truckers cabinet? Well, send us a picture of your Hard Truckers cabinet in action and we will post a picture of your rig on our flickr site for all to see and you are in. The club is Free to join, and will allow you to show off your rig, unlock the knowledge vault and get early updates on upcoming Hard Truckers products.
New Hard Truckers Gear
March 19th,
Now available…
"The Isolator" by Brian Brown.
Find potential problems in your rig BEFORE they happen.
Most electronic problems start with symptoms. Oxidation, faulty wires, power supply problems, bad tubes and the like create dirty signal problems and impurities in your guitar signal. The guitar signal in its natural state is a small fragile signal. Pure Tone is achieved thru a Pure Signal Path. A Cleaner Signal equals a fuller richer tone and better sustain at low volumes. 100% Reliability in your gear show after show is a beautiful thing.
Also new from Brian: Stereo (TRS) Guitar and Instrument Cable and Heavy-duty 12 Gauge Speaker Cable, the fire hose that Brian recommends for amp to cabinet connections.
Celestion Gold Speakers, a 50 watt 12" alnico speaker that we found in our testing to have a fabulous low end, with bell like glassy highs. Smooth, yet not overbearing. The Gold's are perfect for single coil rhythm players who love the second and fourth pick-up position of the strat. A great choice for the Bob Weir style player.
Jensen Jet Speakers – Jensen's "Blackbird", of Jet Series is a 100-watt 12" Alnico speaker that is also now available in all Hard Truckers Speaker Cabinets. Described during testing as the powerfully perfect rock-n-roll speaker. Ballsy Marshall 4x12 tones with great sustain. Les Paul blues-rock and Duane Allman fans are sure to like this warm, full spectrum, beast of a speaker.
Both Celestion Gold's and Jensen Jet's Speakers are available in all Hard Truckers speaker cabinets at the same listed prices, simply state; "Celestion GOLD's" or "Jensen JET's in the notes section upon checkout. Two more High-End options for the Hard Truckers classic cabinets. As always please call or email for more details.
Road Cases: Insurance for your investment. Wheel in, pop the top, and plug-and-play. Protect your Hard Truckers cabinet with a custom high quality road case. No need to trust your unprotected gear with the local crew. Single and Double Cabinet Models are available. ATA approved and made for the road.
"The Hard Truckers Custom Shop" is now open. Purchase a Classic Hard Truckers Cabinet not normally kept in stock; the JG-3 "THE" vertical Baltic Birch 3 x12" cabinet, the JG-4 "THE" vertical Baltic Birch 4x12" cabinet, the BW-1 a single Hemp 1x12" cabinet and the JW-1 a mini Baltic Birch 1x4" cabinet. Email us at sales@hardtruckers.com for more details or to have your custom cabinet built.
Tee Shirts - Super comfy, organic cotton long sleeve and short sleeve t-shirts are now available online.
Grill Covers – Our gorgeous gals keep churning out amazing grill covers and now they are retrofitting combo amps and heads with their one-of-a-kind artwork. Contact them at whitchywhoman@hardtruckers.com and erin@hardtruckers.com for more details on their custom work.
Be sure to - Check our flickr photos page regularly for a preview of cabinets, new grill covers and assorted road gear before they are formally released. http://www.flickr.com/photos/hardtruckers/
Guitar cables (see article below) and organic cotton T-Shirts! And, we now offer Empty Cabinets. Load a Classic Hard Truckers cabinet with the speakers of your choice. Custom Screenprinted grill screens are now available. Put your full-color art on your cabinet. Contact us at sales@hardtruckers.com for more details.
New Artists — Jimmy Herring of Widespread Panic, Rob Eaton of Dark Star Orchestra, Ed Rollins of Collective Soul, Ted Norton of the Grapes and Bob Stirner of Boris Garcia.
Coming in March — Hard Truckers Custom Shop, featuring 1x12, 3x12 and 4x12 custom cabinets. Also we'll have two new products from Brian Brown: the Isolator™ and the A/B box that Trey Anastasio swears by (not at).
Another Lock on the Touring Professionals' Knowledge Vault is Opened.
Brian Brown, Trey Anastasio's personal guitar tech and roadie extraordinaire, joins the Hard Truckers and their Organization of Sound Specialists.
Introducing Hard Truckers Guitar and Instrument Cables
Hand-Made by Brian Brown.
The Hard Truckers are honored to announce that Brian Brown has joined their creative team. Brian, like the original Hard Truckers has spent his life on the road working for one of the biggest touring acts. For the last decade Brian has been working with guitar legend Trey Anastasio (formerly of Phish). A guitar and electronics wizard, Brian has dedicated his life to the science behind the music. One of Brian's duties with Phish and Trey is to build all their instrument and guitar cables and now he is making them available to you through Hard Truckers.
Brian and the Hard Truckers are using Canare Cable along with Switchcraft connectors in their guitar and instrument cables. Available in standard lengths with straight or right angle connectors and starting as low as $ 19.99 the Hard Truckers are out to prove that you don't have to spend a fortune on your cables to get the best tone. Industry wide, Brian's cables have a reputation for; being very durable (due to good strain relief and an extra thick and flexible core), low noise (due to an innovative shielding design built into the GS-6 cable), and 100% reliability. Durable high-end cable and road-standard connectors are combined by one of the industry's best techs to give you the touring professional's cable.
Brian will also be lending his talents to the Hard Truckers in the coming months as he creates some of his road tested gear and gadgets, never before available to the general public.
Now you don't have to be a music insider to have your guitar cables made by one of the world's best guitar techs. Brian has worked with every brand of cable available and chooses Canare GS-6/Switchcraft cables to make on the road, because each cable REALLY MATTERS and it HAS TO BE PERFECT, every note. You will not believe the difference in your tone and ultimately, how much better you sound with the Hard Truckers top-of-the-line guitar and instrument cables hand-made by Brian Brown. Check them out here.
Thanks and Stay in Touch.